Online Auction 6/22/22. Auction has ended.
Accurpress & Premier CNC press brakes,
Hydraulic shear, Haeger Inserters,
Weidemann & Wiedemann turret punches,
Spot press/welders, Ingersoll rotary screw compressor,
Bridgeport mill, Bandsaws, Large quantity of punches,
Despatch walk-in drying oven, Steel carts…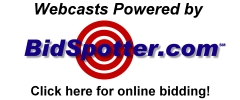 Link to the online catalog is available at the above website
Online Auction 6/22/22 1:00pm (no bidding onsite)
On-site Inspection 6/21/22 1:00pm-4:00pm.
Removal by No Later Than 7/1/22
(6/23 & 6/24 for Small items; Riggers by 7/1/22)
16% Buyers Premium
Cash or Wire transfer
Free forklift loading for small items only, NO machinery
Please see terms for details on loading
Removal Schedule: No removal on auction day 6/22/22.
Thursday-Friday 6/23-6/24 9:00am – 5:00pm (Small items deadline)
Monday – Friday 6/27- 7/1 By appointment for riggers only
Location:  232 Dunbar Ct, Oldsmar, FL 34677

FL License Info:
Auctioneer: Paul Sebastiano, AU4654
Auction Business: CLT Auctions, AB3465
CLT, Florida: (754) 200-3585