Steve Smith Racing – Engine & Machine Shop Auction
Online Auction 5/10/22. Auction has ended 
CLT Auctions is honored to offer the assets of Steve Smith Racing.
Steve Smith, aka 'The Black Bandit,' is a National Sprint Car Hall of Fame inductee who amassed 259 featured wins. Innovative products, winning engines, and cars were built right here using the equipment offered for sale. The auction will take place on-line, 5/10/22.
Engine shop
Serdi 100 valve seat cutter, Sunnen CV-616D Powerstroke hone,
Berco SPY360 head & block grinder, Hines HC500 Crank shaft balancer,
CompuMill 3000 3 axis digitizer, Sunnen hones, Tooling & accessories.
Machine shop
Bridgeport, Wells Index, Cincinnati, B&S mills,
Clausing, Graziano, Monarch lathes,
Surface grinders, Tool & Cutter grinders,
Large quantity of drill presses, Sanders
Sheet metal fab, Pexto mechanical shear,
Strait & finger breaks, Slip rolls, Pines bender,
New Ingersoll T30 compressor, small compressors,
New & great condition Stanley Vidmar cabinets,
Large quantity of machine & inspection tooling.

Online Auction 5/10/22
Bidding will take place from 10:30am-12:00pm and 1:00pm – 5:00pm
Lunch break between 12:00pm – 1:00pm
(Online only – no bidding onsite)


On-site Inspection 2 days:
Sunday 5/08/22 1:00-4:00pm.
Monday 5/09/22 1:00-5:00pm
Virtual Inspection: 5/09/22 11:00am – 1:00pm ET Via Facebook live
Click below to view the virtual inspection on 5/09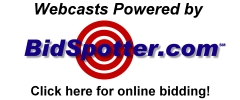 Click the link above to go to the catalog.
Location: 120 South Peter St.
New Oxford, PA 17350
Removal by No Later Than Friday 5/20/22
(Extension for riggers only)
16% Buyers Premium
Cash or Wire transfer
Free forklift loading up to 5000lbs.
Removal Schedule:
No removal on auction day 5/10/22.
Wednesday 5/11/2022 thru Friday 5/13/2022: 9:00am – 5:00pm
Saturday 5/14/2022: 10:00am – 4:00pm
Monday 5/16/2022 thru Friday 5/20/2022: 9:00am – 5:00pm
NC License Info
Auctioneer: Paul Sebastiano 9420
Auction Firm: CLT Auctions 9424
PA License Info:
Auctioneer: Paul Sebastiano, AU005901
Auction Firm: CLT Auctions, AY002179
CLT: (833) 258-7653