Myrtle Beach Wood & Metal Fabrication Equipment Results 
Online auction 10/20/21
Accupress 6′ hydraulic press brake, Tauring CNC profile bender,
CNC mill & lathe, Bantam pneumatic brake,
Omnitech SELEXX/PAL CNC router, 36″ band saw w/ fence,
RFS electronic gluer, Ritter line borer, Lobo panel sander,
Miller welders, Tooling & accessories……..
Click below to view the auction catalog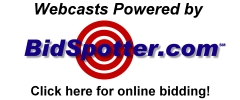 16% Buyers Premium
Cash or wire transfer
Free forklift loading up to 5,000lbs.
(See details on free loading in the terms and conditions)
Removal Schedule: No removal on auction day 10/20/21.
Thursday-Friday 10/21-10/22 9:00am – 5:00pm.
Saturday 10/23: 10:00am – 4:00pm
Removal extension for riggers only
Location: 3116 Shetland Lane, Myrtle Beach, SC 29577
SC License Info:
Paul Sebastiano, AUC.4520
CLT Auctions, AF.4053