Wilmington Machine Shop Auction
Online auction 2/10/22
Acer Dynamic 2480G lathe, Hwacheon Mega-58 CNC Lathe,
Mazac VTC-20B machining center,
Mazak Quick Turn 25, Davis keyseater,
DoAll horizontal band saw, Caterpillar 5k forklift,
Bitmec Truck wash, Oster large pipe threader,
Tooling & accessories
Click below to view the auction catalog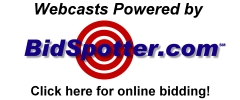 On-site inspection 02/09/22, 1:00-4:00pm.
Removal by no Later than Saturday 02/12/22 small items
Extensions for large machines until 2/22/22.
Free Loading up to 5K lbs 2/11 & 2/12.
(see terms for details)
16% Buyers Premium
Cash or wire transfer
135 Old Fayetteville Rd, Leland, NC 28451
Removal Schedule: No removal on auction day 2/10.
Friday 9:00am – 5:00pm.
Saturday-10:00am – 4:00pm.
2/14-2/22 by appointment only for riggers
NC License Info
Auctioneer: Paul Sebastiano 9420
Auction Firm: CLT Auctions 9424
CLT Auctions 833 258 7653