Port Richey Machine & Welding Shop. Auction has endeded
Bridgeport milling machine w/ DRO, 14″ x 30″ Engine Lathe,
Drill presses, Nichols horizontal hand miller, W & S turret lathes,
Lincoln Aspect 375 TiG welder, Lincoln Power MiG 255, CNC plasma table,
Ingersoll 1ph compressor, Kennedy work benches, Tools & tooling…….
Online Auction 9/8/21, 1:30pm (no bidding onsite)
Click the logo below to view auction catalog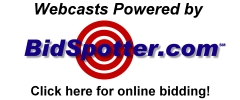 On-site inspection 9/7 1:00 – 4:00pm
On-line Auction 9/8 1:30pm
Removal by No Later Than 9/11.
16% Buyers Premium
Cash or wire transfer
Free forklift loading up to 5,000lbs unless otherwise specified in the lot.
Location: 8132 Cormel St, Port Richey, FL 34668

FL License Info:
Auctioneer: Paul Sebastiano, AU4654
Auction Business: CLT Auctions, AB3465
Removal Schedule: No removal on auction day 9/8.
Thursday & Friday 9:00 – 5:00 pm.
Saturday 10:00am – 4:00 pm.
CLT, Florida: (754) 200-3585