<![CDATA[
Fabrication, Forklifts & Scissor Lifts
                 Auction Over!         Thank You to All Participants Selling equipment surplus to the ongoing needs of a Greensboro fabrication shop.
Removal Schedule: No removal on auction day 6/8/16. Thursday – Friday 9:00 – 5:00pm. Saturday 10:00 – 5:00. Sunday No Removal Monday 6/13 Freight only. By appointment Only!
UPS Shipping Available, Free Fork lift Loading (see details in terms, some restrictions)
Auction Location: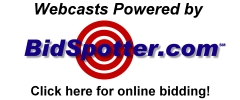 2001 Sullivan St., Greensboro, NC 27405
Online Auction 6/8/16 10:30am
Onsite Inspection: 6/7/16 10:30am – 5:00pm ET
Removal By No Later Than 6/11/16
16% Buyers Premium.
License Info:
Auctioneer: Paul Sebastiano, NCAL 9420
Auction Firm: CLT Auctions NCAFL 9424
]]>