Custom Trailer Fabricator Relocation Auction results
Auction has ended 
Online auction 6/9/21
Custom trailers, Aluminum trailer frames
Hyster 15k forklift, Caterpillar & Kamatsu pneumatic tire forklifts
Niagara shears and brakes, Iron worker, Strippit punches
Plasma table, Duct Coil line, Band saws, Work trucks
Restaurant equipment, tool boxes,
2015 low mileage Tahoe with Whipple supercharger

Large quantity of support equipment & tools
Online Auction 6/09/21 10:00am (no bidding onsite)
 
Onsite Virtual Inspection: 6/08/21 11:00am-12:30pm ET Via Facebook live
Limited on-site inspection 6/08/21 1:00-5:00pm.
Removal by No Later Than  6/16/21
(extension for riggers only 6/22)
Click below to view the virtual inspection on 6/08

Click below to view the auction catalog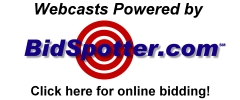 16% Buyers Premium
Cash or wire transfer
Free forklift loading up to 5,000lbs.
(See details on free loading in the terms and conditions)
1415 Jake Alexander BLVD, Salisbury, NC
Removal Schedule: No removal on auction day 6/09.
Thursday-Friday 9:00am – 5:00pm.
Saturday 10:00am – 4:00pm.
Monday 6/14/2021 – Wednesday 6/16/2021: 9:00am – 5:00pm
Location: 1415 Jake Alexander Boulevard South, Salisbury, NC
NC License Info
Auctioneer: Paul Sebastiano 9420
Auction Firm: CLT Auctions 9424
CLT Auctions 833 258 7653
info@cltauctions.com