Precision Machining Facility Auction

                                                                                                        Auction Has Ended 
Online Auction 9/12/19 10:00 am (no bidding onsite)
Onsite Inspection: 9/11/19,10:00 am – 3:00 pm ET
Large Sharp Lathes, Bridgeport milling machine,
Supermax CNC Lathe, Horizontal band saws,
Vertical machining center,
Yale pneumatic tire forklift, Roll-In band saw,
South Bend Heavy 10, Tooling .……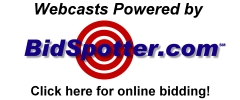 Removal by No Later Than Tuesday 9/17/19
16% Buyers Premium, Cash or wire transfer
Free forklift loading up to 5,000lbs
Fees apply for forklift loading of large equipment.
 FL License Info:
Auctioneer: Paul Sebastiano, AU4654,
Auction Business: CLT Auctions, AB3465
Removal Schedule: No removal on auction day 9/12/19.
Friday 9:00 am – 5:00 pm.
Saturday 10:00 am – 4:00 pm.
Mon-Tues 9:00 am – 5:00 pm.
CLT Auctions Florida Contacts: (754) 200-3585
info@cltauction.com
Location: 1037 SE Holbrook Cir, Port St. Lucie, FL 34952